KOOKABURRA FOUR ON A DECOUPAGE PLATE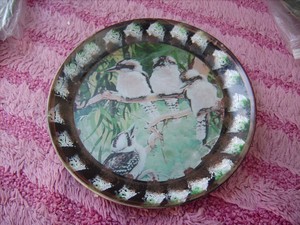 ---
THE  PLATE IS PAINTED A BLACK BACKGROUND  AND HAS A PHOTO OF   FOUR KOOKABURRA  ON IT.  THE PLATE  IS DECOUPAGE ONTO THE PLATE. THE PHOTO HAS A PAINTED BORDER AROUND IT.  THE PLATE IS  THE SIZE OF A  DINNER   PLATE.   .
 POSTAGE IS AUSTRALIA WILL GO ON POSTCODE AND STATE.
 if buy please wait for billing.
HANDLE / SHIPPING/ POSTAGE TO  U.S.A IS ABOUT  $42.50.  CONBINE POSTAGE IS GIVEN