2019-P (Perth) Australia 1/4 Oz $25 Gold Lunar Year of the Pig Coin - BU in Cap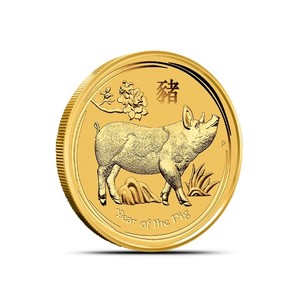 ---
Powered by Frooition About us Specials Shipping Returns Our Reviews Contact us SpecialsGold CoinsGold BarsSilver CoinsSilver BarsSilver RoundsPlatinumPalladiumCopper 2019-P (Perth) Australia 1/4 Oz $25 Gold Lunar Year of the Pig Coin - BU in Cap 2019-P (Perth) Australia 1/4 Oz $25 Gold Lunar Year of the Pig Coin - BU in Cap Item Description These beautiful gold coins honor the Year of the Pig, the last sign in the Chinese zodiac in the 12-year ancient Chinese lunar cycle. The birth years for people ruled by the Chinese Lunar pig include 1923, 1935, 1947, 1959, 1971, 1983, 1995, 2007 and 2019. Those born in the year of this sign are said to be honest, loyal, and generous.Each 1/4 oz coin is exquisitely struck from .9999 pure gold and bears a legal tender face value of 25 Australian dollars. Add the 1/4 oz Gold Lunar Pig coin to your collection today! ObverseThe obverse features the Ian Rank-Broadley image of Her Majesty Queen Elizabeth II. "2019", 25 dollars, and the weight and purity are also inscribed on the obverse of each coin. ReverseThe reverse of this 1/4 oz Gold Lunar coin depicts a sow standing underneath a floral canopy. The Chinese character for "pig", "Year of the Pig" and The Perth Mint's traditional 'P' mintmark are inscribed around the image. About The Perth MintThe Perth Mint is Australia's oldest mint, as well as the largest exporter and second largest producer of gold bars in the world. With the capability to process over 700 tons of gold per year, the mint is one of the most efficient refineries active today. The Perth Mint belongs to a prestigious group of gold refiners who have accreditation from five of the major gold exchanges. As a member of this elite group, Perth mint products are trusted by investors and collectors worldwide to meet the highest weight and purity standards. ShippingYour 2019 1/4 oz Gold Lunar Pig will arrive in a protective acrylic capsule. About Us About Us Payment Shipping FAQs Returns About Us

Established in 2009 in Dallas, Texas, Provident Metals is a precious metals seller that offers a variety of high quality gold, silver, platinum, and palladium products. Orders ship fast and discretely right to your door. Over the last decade, over 300,000 individual investors have purchased over 1 billion dollars worth of precious metals from Provident. At Provident, our primary goal is to make it simple and safe to invest in precious metals. We sell only genuine bullion products sourced directly from the mints that produce them, such as the US Mint, Royal Canadian Mint, Perth Mint, and more. In addition, our inventory holds a unique mix of products that you can only find at Provident. Our industry-leading pricing and fast shipping have made us a reputable resource for precious metals investors. Additionally, our team is committed to offering exceptional customer service at every step of the investing process. You can rest easy knowing that you will get exactly what you ordered each and every time.

Payment Payment

Payment for all orders is accepted exclusively via PayPal. PayPal is a convenient and safe way to transact online. If you do not already have a PayPal account, you can easily and securely use your debit or credit card to pay via PayPal.

Shipping Shipping

Every Provident Metals order ships (fully insured) for free. You will be provided a tracking number via email when your order ships. Most orders ship in 1-2 business days and take between 5-10 business days to arrive after shipment. All packages are fully insured during transit. In the unlikely event that your package gets lost or damaged while in transit, your money will be fully refunded or your items will be replaced (subject to market fluctuations and inventory availability).

FAQs FAQs PRODUCTSWill I receive the exact item pictured?

No. All photos are stock and are meant to represent the type and quality of item you will receive.

PRICINGWhat is spot price?

Spot price is the market value of precious metals at a given point in time.

How are prices calculated?

Nearly all products in our store are priced at a premium or discount to the spot price. As spot price moves up and down throughout the day, so will the price of the product.

How often are prices adjusted based on spot price?

Every 10 minutes.

Will I pay any sales tax on my order?

Provident Metals is not required to collect sales tax on gold, silver, or platinum items regardless of shipment address. We are however required to collect sales tax from orders shipping to a Texas address for items that are not made of gold, silver, or platinum, including supplies, copper items, rhodium, and palladium.

Will I pay any additional fees or commissions?

We have no hidden fees of any kind. Similarly, our traders are NOT commissioned. What you see is what you get. Don't forget, shipping is free for all orders as well.

ORDERINGCan I cancel my order?

Cancellations are considered on a case-by-case basis. Cancellations are not considered once an order has shipped.

Is there a minimum order?

There is no minimum order.

Can I change my order once it has been placed?

No changes can be made to the items included in an order once it has been placed, but a subsequent order can be placed.

Can I place an order by phone?

No. We can't process PayPal over the phone.

PAYMENTWhat are my payment options?

We only accept PayPal.

Can I use an gift card or gift certificate to pay for my order?

Yes, you can apply those monies at checkout.

Did my payment go through?

PayPal sends an email confirmation when payment goes through.

SHIPPINGWhat is the shipping cost?

Nothing. We ship every order for free.

How will my items be shipped?

Items ship via a carrier of our choice, which is usually USPS or UPS.

Can I choose for my order to be shipped by a specific carrier such as UPS, USPS, or FedEx?

No. Shipment carriers are by our choice and are usually USPS or UPS.

Will my order be insured?

All orders are shipped fully insured.

Where do you ship from?

We ship out of our headquarters in Dallas, TX.

What happens if my order gets lost in the mail?

First off, we are sorry this happened. We realize that it's a massive inconvenience if the delivery service misplaces your order. That said, it does happen, but we will make it right. We have to wait 30 days from the time it was shipped, as that is what every delivery service requires to allow them sufficient time to track it down and deliver it. After that time has passed, we will process a claim for you and, at our discretion, refund you or replace the order. We always do our best to do right by our customers.

Do you ship internationally?

Not at this time.

Has my order shipped?

You will be notified through email when your order ships. The email you receive will include a tracking number.

How long will my order take to get to me?

Please allow 5-10 business days for orders to arrive.

RETURNSWhat is the return policy?

We do not accept returns.

Returns Returns

We do not accept returns.

More Items!View more great items About us Specials Shipping Returns Our Reviews Contact us Powered by Frooition Frooition | No-js Template | design, store design, shop design, template design, listing design (ver:froo_no_js) This listing is currently undergoing maintenance, we apologise for any inconvenience caused.